"Optimism for me isn't a passive expectation that things will get better; it's a conviction that we can make things better – that whatever suffering we see, no matter how bad it is, we can help people if we don't lose hope and we don't look away." – Melinda Gates 
Child mortality rates, global contraception access, HIV/AIDS, the American education system…the daily work at the Bill and Melinda Gates Foundation is hardly a walk on the beach, but in 1993, a beach walk in Zanzibar is exactly what sparked America's most generous foundation.
Writer Chris Anderson interviewed the power couple for TED in March of this year, and I found the video to be truly enlightening. My top three impressions:
Bill and Melinda Gates are a shocking couple – shockingly smart, shockingly generous (they give away 95% of their wealth) and shockingly down to earth. This couple knows what works in global development and they are making epic changes in our world.
Aid works – despite the recent negative press that global aid has gained, Bill and Melinda make a very convincing case that, while imperfect, aid is literally saving thousands of lives around the world every day. Can't argue with that.
Shocking generosity is contagious – When you hear of a couple giving away 95% of their wealth, you assume they are an anomaly. But it seems that this kind of radical philanthropy is catching on. The Gates have convinced over 100 other billionaire families to give away more than half of their wealth.
Of course, we aren't all billionaires, and for most of us giving away half our income would leave us on the street. But the message is greater than a percentage – how can we take what excess we have and multiply it to benefit the global community?
Watch the entire interview below.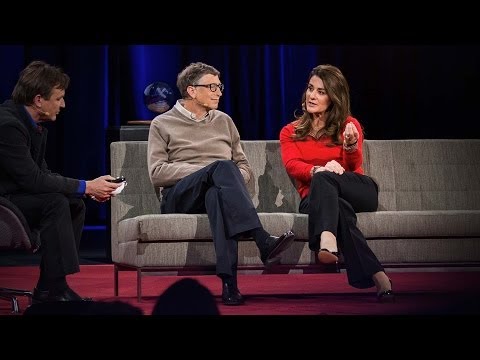 The Gates family is one shining example of an illuminating new frontier in giving; last year's TEDxPeachtree speaker Jeff Shinabarger, social entrepreneur, founder of Plywood People, GiftCardGiver.com, and author of More or Less: Choosing a Lifestyle of Excessive Generosity, was another. Don't miss this year's speakers  at TEDxPeachtree 2014. Sign up for our newsletter to get all the info, enjoy early bird rates…and get illuminated!
Molly Heacock is the Community Relations Director at CARE for AIDS, an Atlanta based non-profit that works with men and women affected by HIV/AIDS in Kenya. She lives in Ormewood Park with her husband and dog, and cannot get enough of TEDxPeachtree.